For over 25 years, the Australia Wide Coaches name has been synonymous with luxury coach travel.
Established in 1992, our team has a wealth of experience in the coach travel industry and we continue to thrive on our traditional vales of providing safe, reliable and quality coach hire. You will find our friendly, engaging team of professionals a pleasure to deal with and it is our attention to detail and commitment to client satisfaction, that sets us apart from our competitors.
Our unique culture, underpinned by our core values of safety and wellbeing, integrity, achievement, teamwork and loyalty, is embodied in our people and is a significant aspect of our competitive advantage.
This has been the AWC road to success!
In business, first impressions can make the difference between success and failure. That's certainly the view held by the corporate travel team at Australia Wide Coaches. Every one of our vehicles is late model, immaculately presented, crewed by our friendly, courteous and uniformed coach drivers.
Australia Wide Coaches is fully government accredited by Transport for NSW and a premier Coach operator in Sydney and Orange.
At Australia Wide Coaches, we can take care of all the logistics. Our informed tour co-ordinators can customise an interesting and fun itinerary to suit your school curriculum, specific needs and budget. We can keep you up to date with new educational programmes available; suggest various attractions and venues to visit and suitable places to stay.
Discover our high level of personalised service with a No Obligation Cost Free estimate for your future school travel bookings today.
As the exclusive provider of coaches and drivers in Sydney to the worldwide sightseeing brand Gray Line, we are well experienced to operate day and extended tours for our International guests visiting our vibrant City and Sydney region. We currently operate Inbound series work for a small but select number of companies.
There are some fascinating agribusiness properties throughout Australia. It never ceases to amaze us where we are asked to go, and what we find. With our fully equipped coaches, field trips can consist of practical site visits, on board DVD presentations, guest lectures and full commentary. Don't compromise, make sure your coach is appropriately equipped to ensure you maximise the value of your informative journey.
From your first point of contact with our office, you will be greeted with a warm and sincere welcome by a small team of caring and dedicated professionals. You will find their helpful, friendly attitude, knowledge and advice invaluable. We pride ourselves on this, and it doesn't stop there!
The standard of Australia Wide Coaches' professionally trained drivers ensures passenger safety, reliability and world class service. They are fully qualified and selected for their impeccable driving skills, friendly and fun personality and comprehensive knowledge of Australia.
Focusing on new technology and environmental practices, such as low emission diesel engines, efficient LED lighting systems in the offices and workshop and low impact vehicle wash-bays, we are driven to maintain a cleaner, healthier environment for our passengers and the community.
Australia Wide Coaches operates one of the youngest fleet of touring coaches in Australia and we continue to regularly substantially invest in new vehicles.
Vehicle age is probably the single most important safety factor you can control. At Australia Wide Coaches, you are always guaranteed a late model vehicle. The care and attention to the appearance of the vehicle goes well below the surface.
Our late model fleet of coaches is maintained to an exceptional level by regular in-house servicing and by our vehicle manufacturers. There is simply no compromise on safety!
Not all transport companies are what they claim to be. Some companies claim to be transport operators, but just provide a booking service, auctioning your request to the lowest bidder to make a margin. These companies are known as Transport Brokers. When you deal with us, you are dealing direct with the Operator and not via a Third Party.
Appropriate checks before you select a transport partner will save you money, possible disappointment and time when it comes to delivering service levels that you expect.
For more than 25 years, Australia Wide Coaches has been providing safe, efficient and effective Coach Travel solutions to our clients.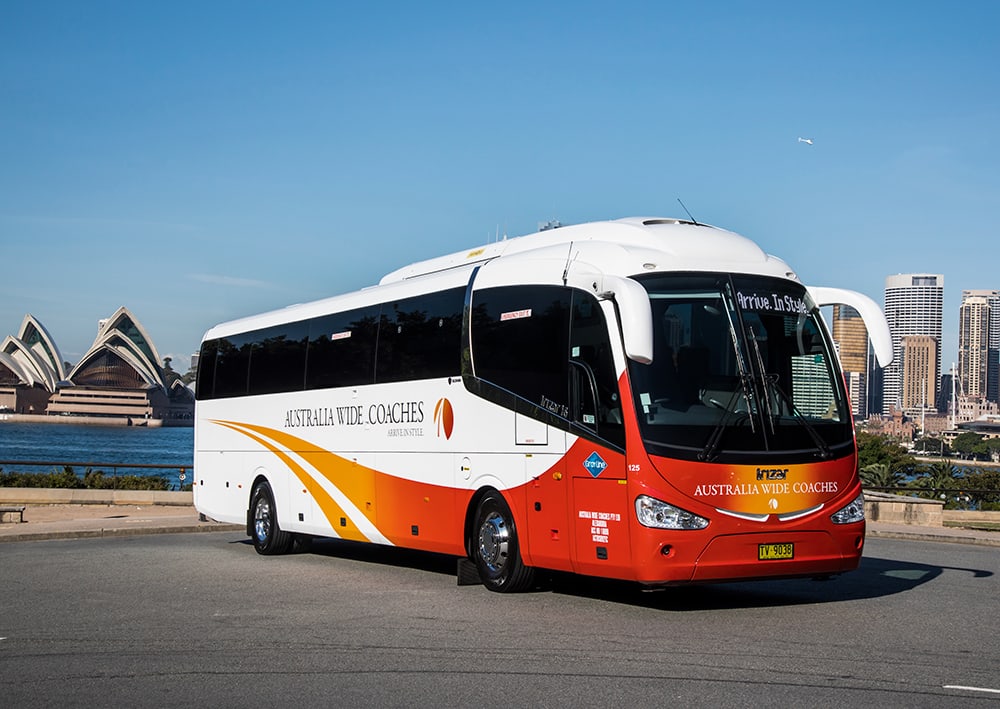 At Australia Wide Coaches, you will become part of a small, but very professional, friendly and dedicated team that prides itself on being different to other coach operators. We are extremely proud of our employee recruitment and retention of our high, quality team focused in the first place on attracting the right candidate.
No matter what role you undertake, we recognise that our employees are one of our most important assets in delivering excellent service to our clients.
Duties include but not limited to:
Safe transportation of clients to various points of interest throughout NSW.
Liaising with tour leaders, school teachers, guides and co-ordinators to ensure passenger satisfaction.
Maintain a high level of uniform and vehicle presentation.
Client luggage handling.
Australia Wide Coaches offers flexible working conditions and excellent rates of pay.
Successful applicants must:
Have a current HR Drivers Licence Transport for NSW Public Passenger Driver Authority
Have excellent communication and customer service skills
Be well groomed and presented
Have a good geographical knowledge of Sydney and regional NSW
Ideally, you will have a minimum of two years heavy vehicle experience. Please forward your resume via the button below.
APPLY
If you require charter coaches in Brisbane, Melbourne and Adelaide, Australia Wide Coaches has some great affiliate partners we highly recommend
"We travelled on the Bathurst-Sydney service last Thursday. We haven't used it before but will certainly be doing it again in the near future. We thoroughly enjoyed the trip and the driver, Paul, did an outstanding job."

Julia Hansen
"On behalf of the school, I would like to express great delight in our recent Canberra field trip organised through Australian Wide Coaches. Once again, this experience has been an extremely educational and enjoyable trip for both staff and students. All the venues were well organised and flexible to our needs."

International School
"The service and standard of coach from Australia Wide Coaches were just excellent. Your driver was fantastic, and we were thrilled to have him as our driver."

Rockingham High School