At Australia Wide Coaches, we pride ourselves on being a company that combines the highest level of safety and innovative vehicle design with an overall personal approach to our valued clients.
As an Australian family owned company, it is our attention to detail and commitment to customer satisfaction, quality and reliability that sets us apart from our competitors. You will find our friendly, engaging team of professionals a pleasure to deal with and we can guarantee that once you travel with us you will want to return.
On top of that, we are highly regarded as an industry leader operating one of the youngest fleet of five star tour coaches in Australia!
Life is not about the destination, but rather the journey.
We hope you enjoy your journey.
Richard Dawes
Managing Director
Australia Wide Coaches
Our Company
Our Mission
To provide our passengers with an enjoyable experience
To act in a friendly, courteous & professional manner
To show off our beautiful country
To provide the best quality coaches with competitive pricing
To present our coaches in an immaculate condition
To ensure consistent & reliable service on time, every time
To provide a safe and relaxed journey
To conduct our business in an honest and ethical way
Professional and experienced team
From your first point of contact with our office, you will be greeted with a warm and sincere welcome by a small team of caring and dedicated professionals. You will find their helpful, friendly attitude, knowledge and advice invaluable. We pride ourselves on this, and it doesn't stop there!
Efficient and reliable
Our policy is to continually improve. This means the very best in coaches, with a fleet that is being constantly modernised, a great crew of drivers and operations/support staff, with a focus on delivering five star customer service.
Day Tours
Sightseeing Tours
Corporate charter transfers
Extended Tours
Seniors and Probus Groups
Conferences
Pre/Post Touring
Educational Tours
Itinerary Assistance
Booking and payment options
We accept cash, cheques, direct deposit or credit card as payment for your charter booking. In line with industry practice, Australia Wide Coaches has introduced a nominal surcharge for those paying by credit card.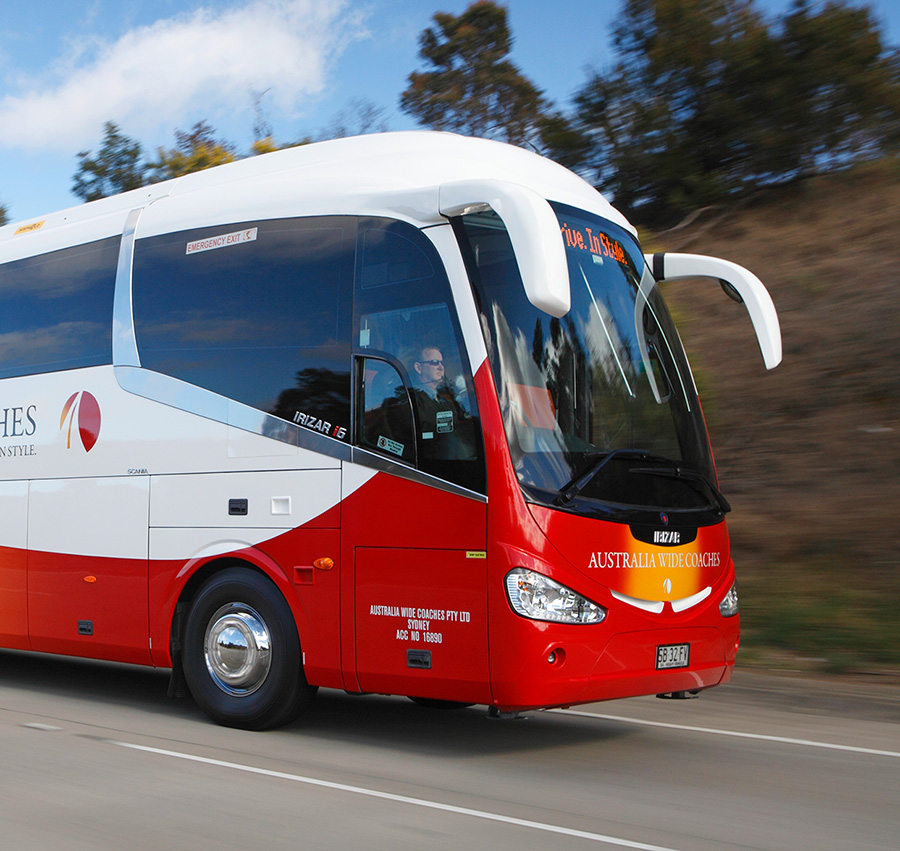 Australia Wide Coaches are committed to attracting, developing and retaining the right people who are highly competent, live the company's values and actively contribute to our long-term success.
This continued commitment has enabled the Company to grow and achieve our vision. Our unique culture, underpinned by our core values of safety and wellbeing, integrity, achievement, teamwork and loyalty, is embodied in our people and is a significant aspect of our competitive advantage.
Our people are our most valuable asset. We are committed to ensuring that our people strategies are aligned with our values and continue to drive our long-term success.
We are committed to diversity, and we manage and recruit based on competence and performance. We believe in the principle of equal opportunity in employment for all people, regardless of any personal attributes such as gender, sexual preferences, marital status, pregnancy, family responsibilities, race, political or religious belief, disability and age.
"It was really fun getting to know the team during the project. They were all helpful in answering my questions and made me feel at ease. The design ended up being better than I could have envisioned!"

Eve Crawford

Product Designer
"By far the best team I've ever worked with. They truly understood the look I was going for and completely nailed it! I would highly recommend them as a company, you simply just won't find any better team!"

Aura Brooks

Graphic Designer
"Salient is by far the most astonishing WP theme out there! I literally could not be happier that I chose to buy your theme! Your regular updates and superb attention to detail blows me away every time I visit my new site!"

Zak Reid

Instructor, Skate Nao
"I'm wondering why I never contacted these guys sooner! Seriously, they all have commendable talent in their respective fields and knocked my concept out of the ballpark. Thanks for an amazing experience!"

Jack Graham

Co Founder, Coffee Inc
At Australia Wide Coaches, you will become part of a small, but very professional, friendly and dedicated team that prides itself on being different to other coach operators. We are extremely proud of our staff recruitment and retention of our high quality team.
Whether it be in Sydney or Orange, we are always on the lookout for great driving staff. You need to be customer focused with a knowledge of Sydney and its surrounds and preferably regional NSW for day tours and charters.
Duties include but not limited to:
Safe transportation of clients to various points of interest throughout NSW.
Liaising with tour leaders, school teachers, guides and co-ordinators to ensure passenger satisfaction.
Maintain a high level of uniform and vehicle presentation.
Client luggage handling.
Australia Wide Coaches offers flexible working conditions and excellent rates.
Australia Wide Coaches offers flexible working conditions and excellent rates.
Successful applicants must:
Have a current HR Drivers Licence
Transport for NSW Public Passenger Driver Authority
Have excellent communication and customer service skills
Be well groomed and presented
Have a good geographical knowledge of Sydney and regional NSW
Ideally, you will have a minimum of two years heavy vehicle experience.
If you like the idea of working with a great company, please feel free to contact us.
Contact us
Contact us
Our large coach manufacturer is Scania, whose guiding principle is to minimise the impact of each vehicle on the environment. By using new technology, Scania is making the diesel engine more efficient and the next range of diesel engines will meet Euro 5 regulations for exhaust and particulate emissions and low engine noise. Once again, Australia Wide Coaches is at the forefront of this exciting new technology when we take delivery of further vehicles shortly.
Australia Wide Coaches predominantly use BP Diesel. The sulphur content of BP Diesel has now been reduced to just 10 parts per million. This is 50 times less than standard diesel, and makes BP Diesel one of the cleanest fuels in the world. Less sulphur means less sooty black exhaust smoke – as much as 70% less! Invisible emissions have also been greatly reduced and carbon monoxide, hydrocarbons and nitrogen oxides are now a fraction of their former levels. All of which adds up to a cleaner, healthier environment for everyone and everything.
Whilst maintaining our impeccably clean fleet of vehicles, we now use less water than ever before by using water more effectively and efficiently. Our brand new state of the art vehicle washbay uses a combination of fresh, recycled and rainwater with detergents that are gentle on the environment.